The Mommyheads & Goldenboy at The Rendezvous October 19, 2022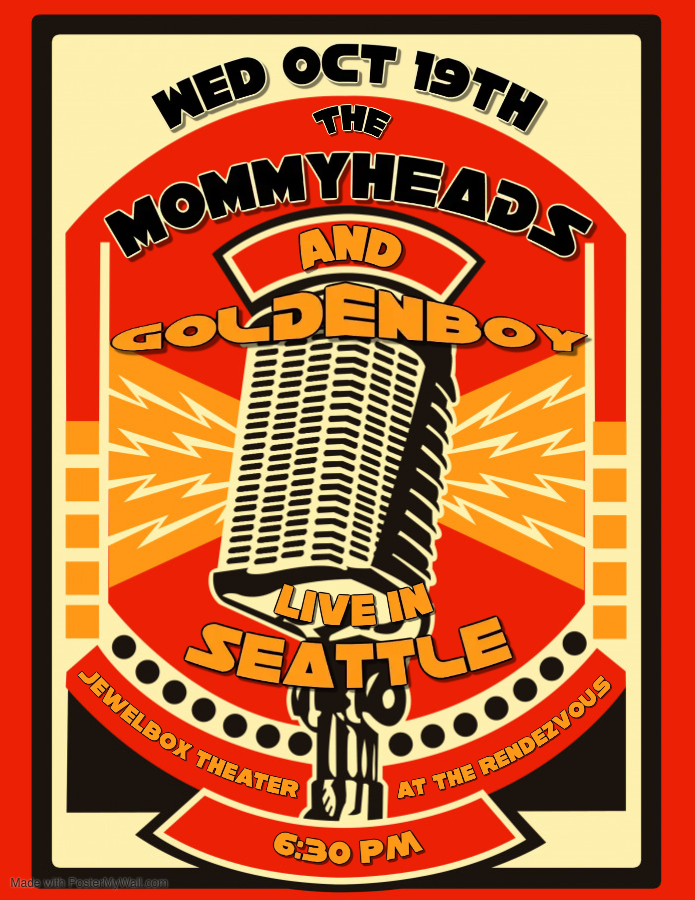 The Mommyheads first record, Acorn, came out in 1989 and reconfigured the world slightly. And The Mommyheads are back on tour with a new record. Dope! Been a fan a long time – check this interview with Adam on Flotzam from over ten years ago when they released a best of compilation called Finest Specimans.
They played at The Jewelbox Theatre in front an appreciative crowd on a weird Wednesday night where the sky was filled with wildfire smoke. Show was great. They played lots of new songs and new material, all with that signature sound: avant pop. Love that they aren't doing the "reunion, play the hits tour" and are like we got new shit to play for y'all, so check it.
And the new stuff sounds like The Mommyheads: diatonic, catchy melodies on top of odd time signatures and weird grooves, so you are at once tapping your foot and wondering where the beat went. First song was alternating 7/4 and 6/4, with a three measure repeating chorus; another tune was in 9/4. The melodies, as always, flowed on top with graceful logic and the lyrics filled with salient lines about modern life.
They did throw a few bones to the fans: Bingham's Hole, Jaded and Needmore, Pennsylvania. And they ended with a gorgeous tune, acoustic, with killer three part harmony that filled the space with good vibes.
Goldenboy opened – perfect choice for an opener, the lineage clear of the avant pop genre. Again, all about the melody. The vocals, maybe it was the timbre as well as the lyrics, reminded one a little of the band, Cataldo. Loved the accompanying keyboard/trumpet player, who comped with an ear to detail and a smile on his face.