Kurt Rosenwinkel at The Triple Door October 12, 2022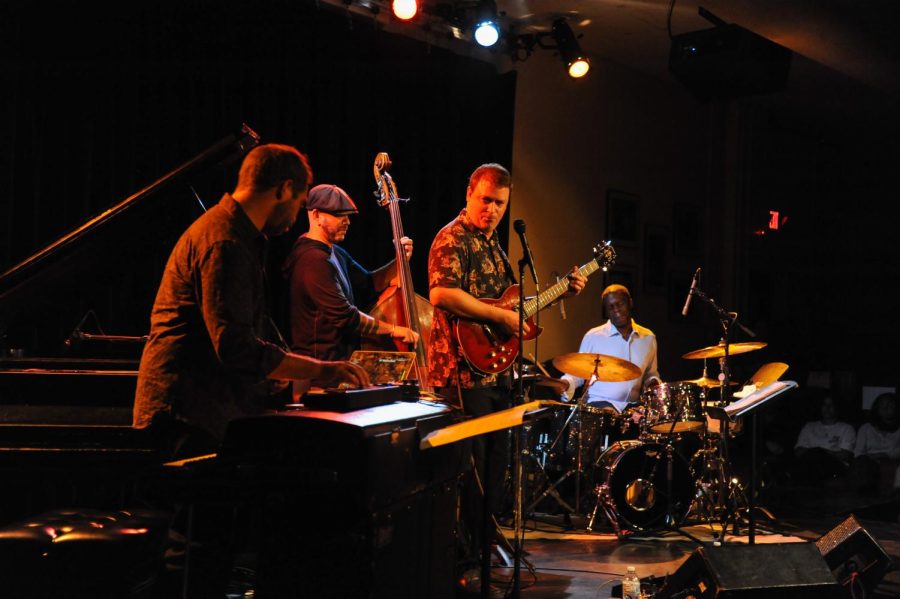 October in Seattle? Must be time for jazz, Ear Shot that is, the noodliest, best you can get.
Kurt Rosenwinkel shredding to a full house at the The Triple Door, his guitar sounding almost Fripp-ish. Filled the room warmly, his legato lines serpentine and seductive. All originals, some unreleased stuff, tunes like "Wirly Vibes" and "Psycho Fire" (which was an ode to the circle of fifths), a song in three called "Lost Song" that is on his piano record, and a tone poem which had this gorgeous intro by the pianist, Taylor Eigsti. Eigsti was mostly on acoustic piano but sometimes on the electric keys, for this one funk song jam, didn't catch the title. Rhythm section was great, drummer Gregory Hutchinson and bassist Eric Revis, definitely in tune with one another, fun to hear/watch.
Form was pretty traditional – heads, solos (Kurt laying out during piano solos, not comping), back to head. Compositions intricate, lots of moving around, key centers shifting, lines crossing from one key to another compellingly, almost more contemporary classical but wrapped in jazz sensibility, solos running 16th notes. Rest of the band reading from sheet music, but not Kurt.
Band super gracious, playing an encore, taking a bow together. Great night of music, last night of their tour, a striking quartet configuration.
Props to Erin Koo for the pic from earlier in the tour at Oberlin. Kurt playing the same guitar and wearing even the same shirt for the gig in Seattle.