Bill Frisell Four, Ambrose Akinmusire At The Moore February 17, 2023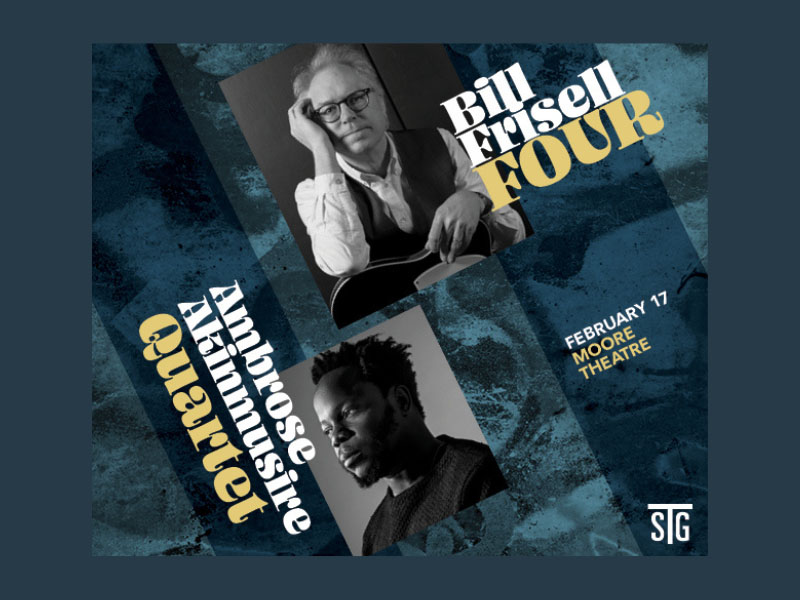 Opening set was Ambrose Akinmusire with Sam Harris, Linda Oh, Tim Angulo.
Love Akinsusire's tone, heads. His solos so consonant. Trumpet sound super modern, like Cuong Vu. Ethereal, not piercing. And crazy lines. He let the supporting players open up, think there was a 10 minutes drum solo and and 10 minute vamped piano solo. A lot of meters in three. Very contemporary sounding, NYC. Often hard to hold on to. Lots of vamps.
Frisell touring in support of his record Four with Greg Tardy: Tenor Saxophone, Clarinet & Bass Clarinet, Gerald Clayton: Piano and Rudy Royston: Drums.
Frisell sounds like, well, Frisell. No one quite like him. Tele and harmony. And in service to the music. His compositions very American, like Gershwin-esque, or maybe Randy Newman-esque. When it was working, could feel the emotion. Played "We Shall Overcome" as an encore and ended on a campfire C major chord. Loved their take of "Monroe" one of Frisell's great compositions.
Royston was so clutch on the drums, so restrained, underplaying to perfection. And Tardy was great, blowin in the tradition of the Frisell changes.
No bass in the lineup, which somehow worked. Clayton didn't really carry there; the band just left out the low end.