Classic Hip-hop Review #1: Outkast- ATLiens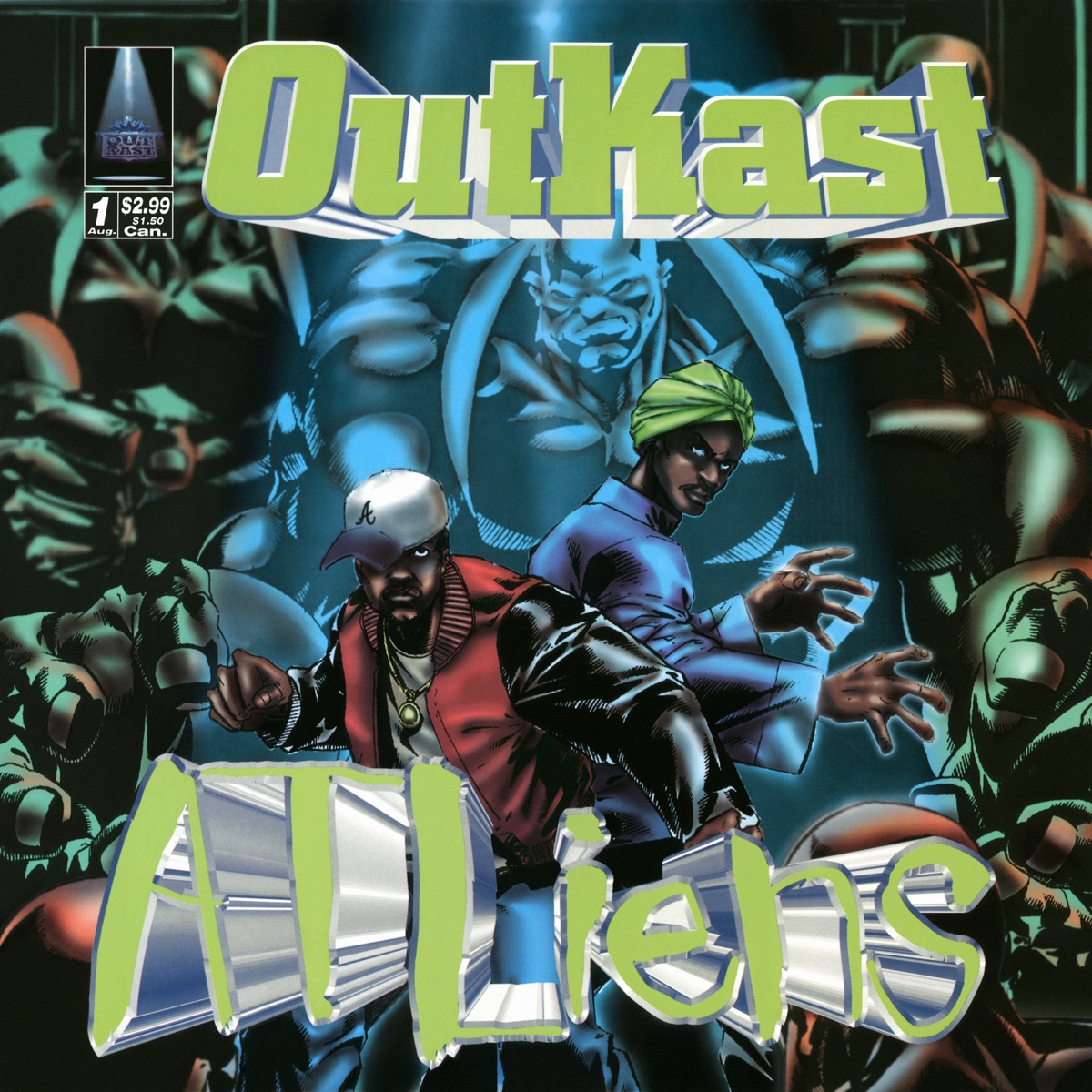 In the mid 90s, hip-hop was primarily based around two areas, the east coast and the west coast. Fans constantly argued about which side of the country had the better rap scene. Meanwhile, some of the best hip-hop of the decade was being made in the south. Outkast's "ATLiens" is an outlier of its era, bringing introspective lyricism over laid back, spacey beats during a time when harder production and lyrics were the trend. Despite their following albums having much flashier, more high budget production and a broader range of influences genre-wise, "ATLiens" still remains my favorite in their discography. They hadn't peaked as artists here; however, I believe this is where they peaked as lyricists. They bring top-tier bars throughout the entire album and seem to find their signature flows here.
The first half of the album is much more consistent than the second, with standout tracks such as "Elevators (Me and You)," "Wheelz of Steel" and the "ATLiens" title track being some of the best in Outkast's catalog. The tracklist isn't filled with hits like their next two albums; however, the deep cuts more than make up for it. The second half still has some great material, with tracks like "Wailin" and "13th Floor/Growing Old" going under the radar in their discography despite being some of their most interesting work. Andre 3000's lyricism is as pristine as always here, and Big Boi brings some of his most skillful verses where he brings out plenty of impressive flows. Over time, I've started to notice that Big Boi has become severely underrated as a rapper, primarily because of the fact that he gets outshined lyrically by Andre on lots of tracks. He's on par with him on almost every song here in my opinion, and deserves more respect.
The album's production is mainly handled by Organized Noize, along with Outkast themselves. It has a very hazy and nocturnal feel, and is much more understated than the rest of their work. Almost every track has a funky, driving bassline and bouncy drums, along with subtle but catchy guitars, synths and pianos. The alien-like sound effects on some tracks add even more to the sound of the album, giving it a unique feel unlike other albums from its era. "Elevators (Me and You)" is where the album peaks production-wise, featuring one of their most psychedelic and transfixing beats that seems to take you into another dimension. The album sounds incredibly cohesive from start to finish, maintaining a crisp and polished sound and having no tracks that sound out of place.
What I find most impressive about this album is the fact that Outkast managed to create a classic hip-hop album while not following any of the trends in the genre at the time. Even though Kanye West did this a bit more impactfully a few years later, they made it known that it's possible to be successful in the rap industry without following its cliches. Every aspect of "ATLiens" is unique and new for its time, from the comic book inspired cover art to the album's chilled out sound. This is the first Outkast album that truly sounds like an Outkast album, with "Southernplayalisticadillacmuzik" sounding like what was trendy in early 90s hip-hop and taking lots of g-funk influence. There are only a couple weak spots on "ATLiens," and they are mostly due to the features on the second half of the album. There isn't a moment where the duo themselves are rapping that I don't enjoy here.